//3877 is a boutique design firm focused on high-end residential, multi-family, restaurant, and hospitality projects. The firm starts each project with a very simple process: ask questions and listen carefully to the answers. Their team wants to understand the needs, wishes and desires of each client in order to impactfully use architecture and design to address each aspiration. Their passion is minimizing the impact on the natural environment while maximizing impact on their clients' built environments.
They have been featured on the Washington Business Journal's "Best Places to Work" list for three consecutive years, and in 2020, became the first Washington D.C. architecture and design firm to become BCorp certified. They know that without people, the spaces they design would not exist, and they remain invested in the communities that they help to create long after the construction process has ended.
"without people, the spaces they design would not exist"
Together, they are committed to providing innovative and creative spaces that enrich the relationships of clients, partners, and the communities in which they reside.
Q: What would you like our readers to know about Duke's Grocery?
A: Duke's Grocery operates beloved East London-inspired gastropubs in Washington DC and is best known as the home of the Proper Burger ®, which is consistently rated the Best Burger in DC. In addition, the locations in Dupont Circle, Woodley Park and Foggy Bottom serve hearty sandwiches and salads alongside a buzzing weekend Brunch. All locations have robust beverage programs, sunny outdoor patios and a Happy Hour that runs from 12:00-7:00pm. Our goal for is for each guest to have a thoroughly enjoyable experience in a casual environment through our emphasis on quality, value and dedicated hospitality.
Q: What can you tell us about this project?
A: The newest and largest location of Duke's Grocery sits in historic row houses built in the 1860's by the legendary developer, raconteur and politician Boss Shephard. Most recently, these walls were home to famed restaurateur Chef Bob Kinkead, who operated his flagship seafood brasserie Kinkead's for over 20 years. Duke's is proud to continue in these footsteps. 2000 Pennsylvania Ave NW, Washington DC 20006
Square Footage: 4,764 SF across two levels
Seat Count: 130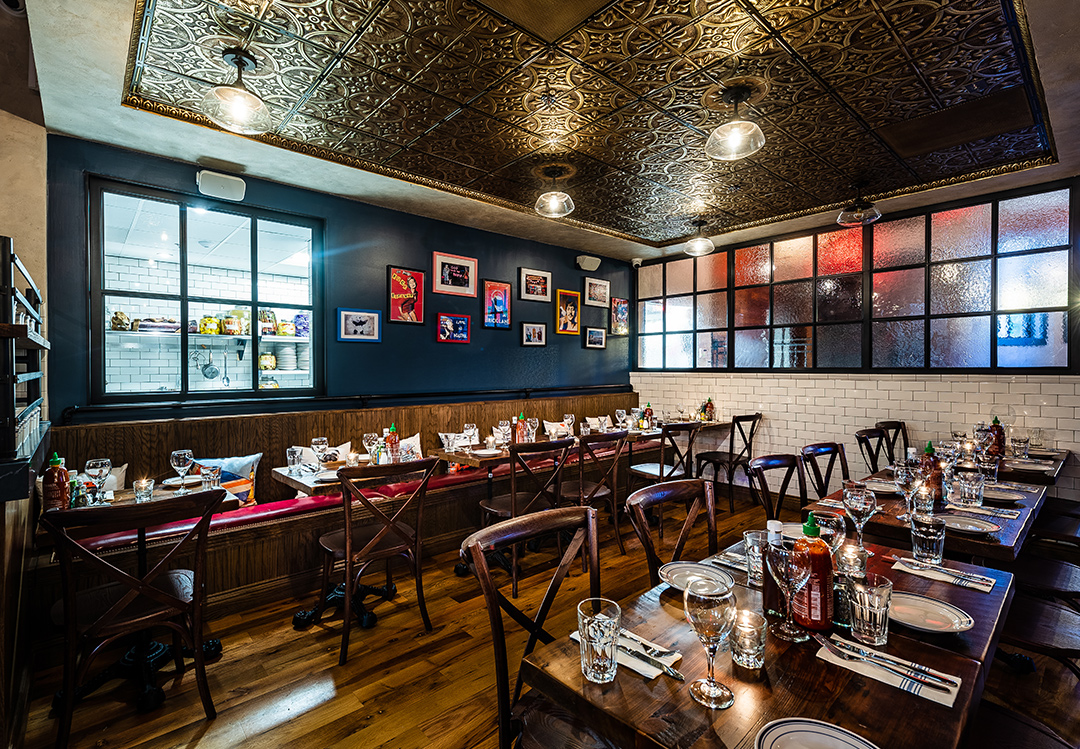 Dining Area with Tin Ceiling
Q: What was the project scope?
A: Renovation of a gutted former restaurant located in historic row homes along Pennsylvania Ave in Washington DC. Our task was to create a warm welcoming environment that was flexible for the guests and highly functional for the staff. Scope included addition of a commercial kitchen, dining, bar, restrooms and take out window on the first floor and storage, single restroom, coolers, and offices in the basement. We also added dining seating on the exterior as well as the interior galleria side.
Q: How would you describe the design style of this project?
A: Duke's Grocery tapped local architecture and interiors firm, //3877, to spin a design together that brings East London's gastro-pub scene to D.C.'s Foggy Bottom. Bold and energized, with a penchant for bold flavors and rich character, Duke's Grocery is an elevated British pub, spanning across the first level and basement of three historic row homes, built in the 19th century.
"Bold and energized, with a penchant for bold flavors and rich character"
Curated as a 'home base' to the neighborhood's mix of students, and young professionals, Duke's Grocery historic façade is illuminated by two string light canopies, acting as a beacon for guests at night and providing a warm, welcoming glow. Upon entering guests are welcomed to a large landing with a raised view of the entire restaurant and immediately are taken back by the space's abstract mural, painted by artist Alia Akthar, which refers to music sensations and landmarks, such as Freddie Mercury, Pink Floyd's Dark Side of the Moon prism, and a girl, 'with kaleidoscope eyes' like in the Beatles' "Lucy in the Sky with Diamonds". The eatery's color palette consists of Britain's famous phone booth red, creams, and dark blue hues in combination with a variety of warm woods and industrial elements such as copper and exposed brick. Additional design highlights include an authentic British phone booth service station and an exterior patio café.
Sitting center stage of the restaurant is a large copper wrapped bar with ornate metal shelving holding Duke's Grocery expansive beverage options. Tin ceilings shine over the dining area's multiple seating zones, which include a few tables in the bay windows and numerous wooden banquettes. Fitted behind the bar is a semi-private dining room offering additional banquette seating and two-top tables. To the right of this space sits a coffee counter along the back-exterior façade, which acts a grab-and-go coffee destination for those within 2000 Penn galleria.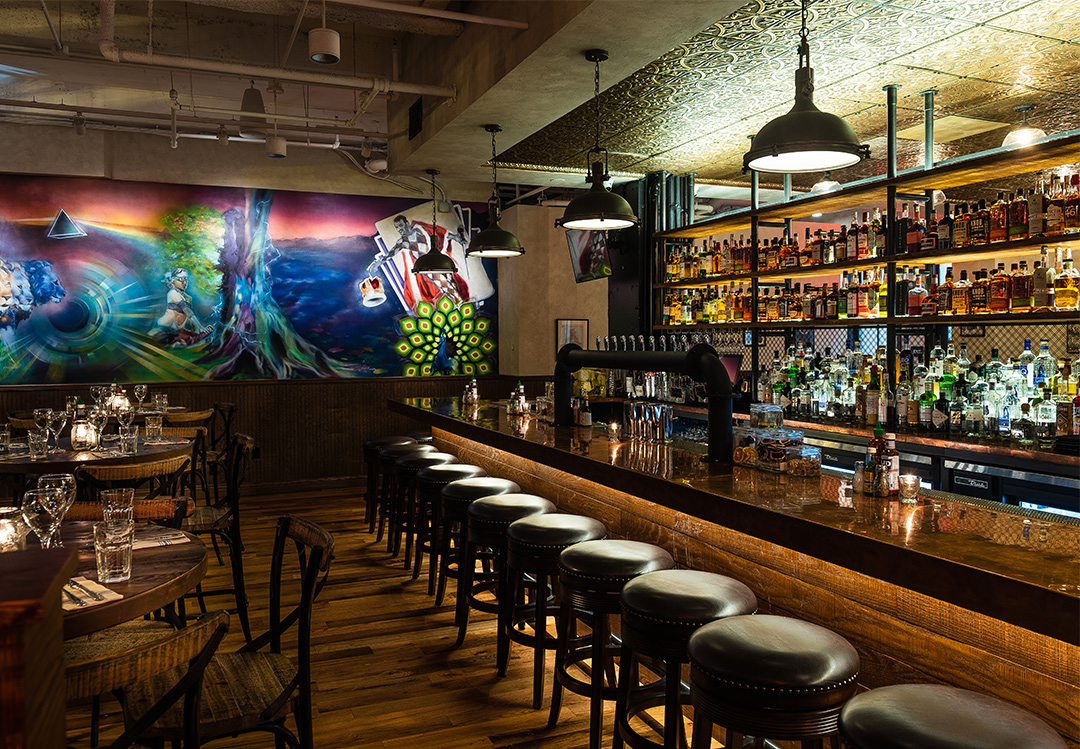 Large Copper Wrapped Bar and Tin Ceiling
Q: How did a tin ceiling support the design style?
A: For us, a tin ceiling in the space was a must. The texture and color provides a warm old-world pub-y feeling while providing a little shimmer and shine on the ceiling. We designed the ceiling soffits based on the dimensions of the tin so that there were no cut pieces during the installation.
Q: Why did you choose Acoustic Pattern #2 in Gold Brushed Bronze?
A: The Acoustic Pattern #2 in Gold Brushed Bronze was the option that worked the best with the other finishes we had in the space. We went back and forth between that one and the Oil Rubbed Bronze but ultimately went with gold for the additional light reflectance that would be provided in the space.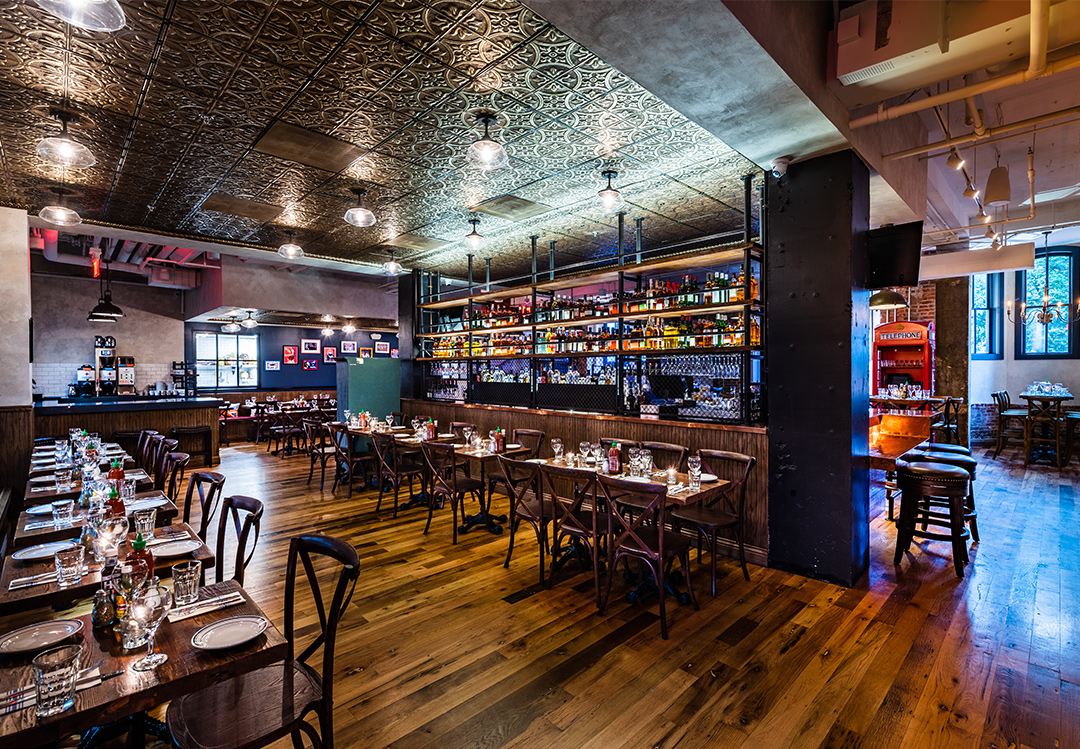 Dining Room Area with Tin Ceiling
Q: What led you to purchase tin panels from American Tin Ceilings?
A: American Tin Ceilings is the go-to brand for our firm when it comes to tin ceiling tiles. The variety of patterns and colors are vast, and the options of various trim pieces allows for seamless installation. The option to use the acoustic tin tile was also a huge selling point as we wanted to reduce the room echo and noise in an elegant and decorative way.
Want to check out more about //3877?
Website
Want to check out more about Duke's Grocery?
Website