Home Category
Hudson Trailer Co.
Q: What is the story behind Hudson Trailer Co.?
A: One sleepless night, I had an idea to hunt down a vintage Shasta trailer and convert it into a mobile bar for my upstate New York property. When I told people about the idea, they said they would like to rent it. Hudson Trailer Co. was born! Three bumpy years later, my idea turned into mobile bar trailers, photo booth trailers, tap trucks, Prosecco trucks, and now a custom trailer build business.
Q: What is your design process when restoring the trailers?
A: It is important to reflect my client's vision and branding in each renovation or custom build and to design it for functionality with my own design stamp. The design process takes about 4 weeks to ensure each element we choose is functional, beautiful and long lasting. The initial design scope covers the client's entire wish list. We then reasses the requirements to strike the perfect balance among wants, needs, and aesthetics.
Q: What was the scope for this project?
A: This is a two horse trailer. The client wanted something beautiful and classic. She is a first-time bar owner, so we designed the trailer with room to grow her company branding.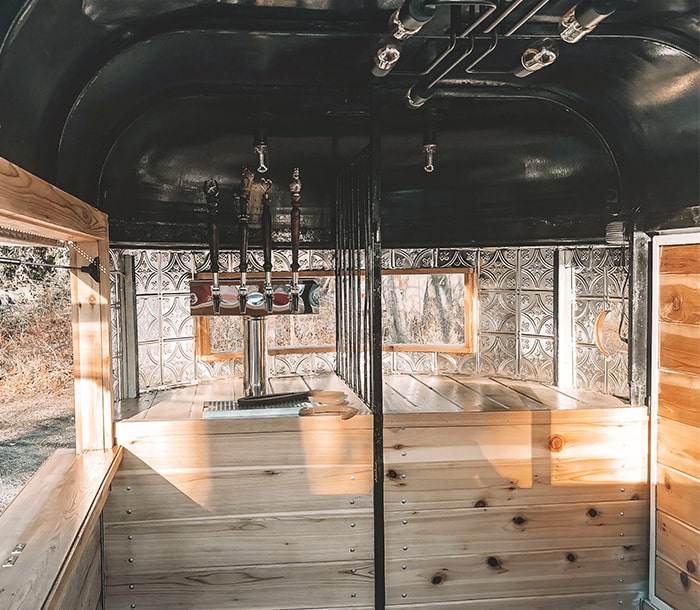 Q: How would you describe the design style of this project?
A: It's a mix of modern and rustic. The horse trailer and cedar wood accents lend to the rustic, and the stainless steel accents and unfinished tin panels lend to the modern. We used a crisp white vintage paint to complement all the finishes.
Q: How did tin panels support the design style?
A: The tap area of the trailer is accentuated with tin panels. It's simple, yet classically beautiful. We have used this tin pattern across many applications in our trailers.
Q: Why did you choose your selected tin Pattern #3?
A: Tin Panel Pattern #3 is my favorite. It allows a small space to be the focal point of design. I am a huge fan of unfinished tin panels. They grow with you, where each day their patina develops into a more beautiful hue. I tell my clients their patina grows along with their company.
Q: How does tin contribute to the overall design aesthetic in this project?
A: I consider American Tin Ceilings the base layer for the Finishes palette. Tin is the first element we choose, followed by all other finishes and fixtures. Tin is the foundation that we layer our design upon.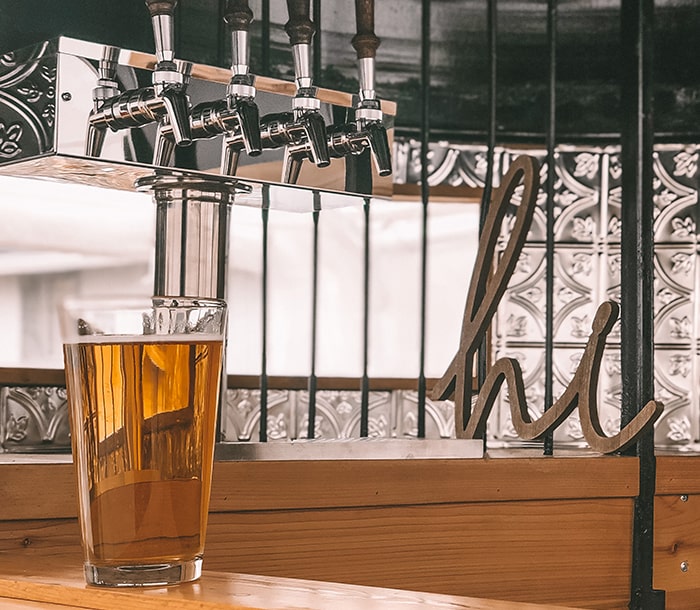 Q: What led you to purchase tin panels from American Tin Ceilings?
A: American Tin Ceilings is the industry leader. It's important to us at Hudson Trailer Company not only to buy from an American company, but from one that offers excellent customer support. American Tin Ceilings offers great customer assistance when choosing tiles, applications and offering advice.
Q: Do you have any tips for someone wanting to install tin panels?
A: Get creative! American Tin Ceilings offers so many patterns and finishes, every project can have its own distinct design. The coordinating switch plates and nails are great accessories to use with your application. In this particular project, we used rivets to adhere the tin to the horse trailer.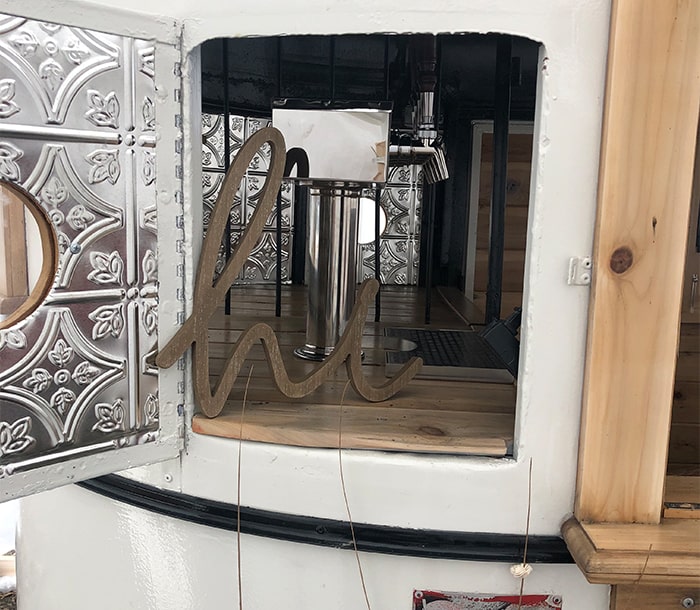 Want to check out more about Hudson Trailer Co.?
Website