Home Category
Kathy Corbet Interiors
Kathy Corbet Interiors, an interior design firm located in Richmond, Virginia, specializes in both residential and commercial spaces. The firm uses resources and materials that are unique to them and not commonly found in mainstream design.
They source throughout the world to create unique environments with found products, materials, and objects. Being located in Richmond, they have access to incredible artisans and craftsmen, who make their unique designs a reality. No project is ever the same.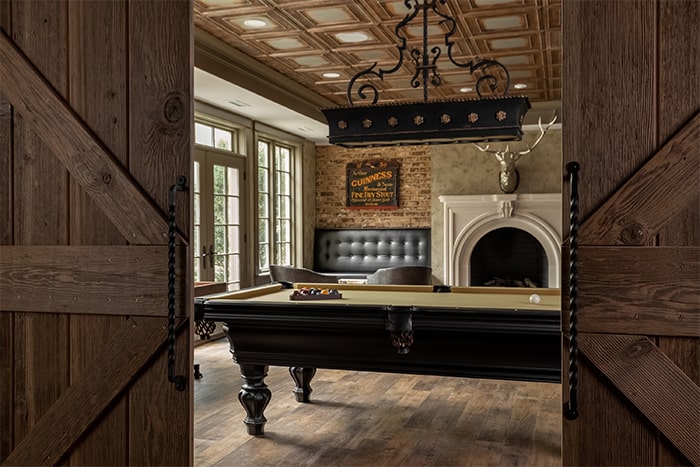 Photography by QPH Photo
Featured: Pattern #6 in Silver Brushed Bronze
Q: What can you tell us about the project?
A: The home is 7800 sq ft and located in Manakin Sabot, VA. This space is in the basement, where french doors open onto a patio.
Q: What was the project scope?
A: The homeowner, who is 100% Irish, and wanted to create an authentic looking classic Irish pub that included an existing pool table and billiard light. He wanted to add a bar, a shuffleboard table, a dart board corner and a sitting area. The aesthetic needed to have the "added over time" feel that is evident in long-standing Irish pubs. I started with an empty slate that included some great features—a European Chateaux style fireplace, french doors to the patio, and a tray ceiling.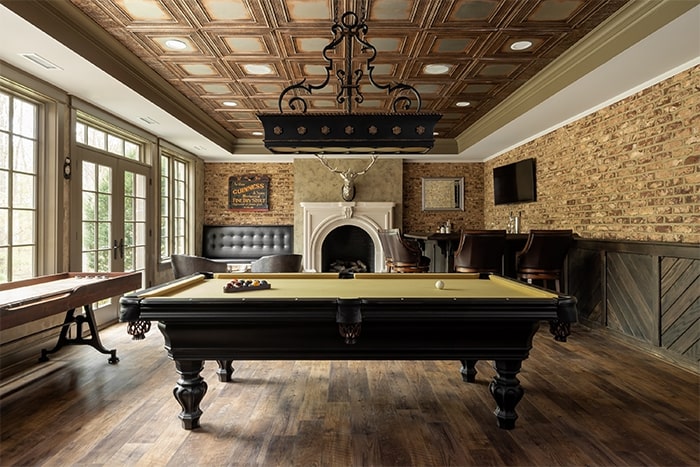 Q: Why did you choose to use Pattern #6 in Silver Brushed Bronze?
A: We planned for the wall finishes to have lots of depth and texture. The wainscot is red oak with an ebonized finish, in a diagonal chevron pattern, that is capped off with a drink rail wide enough to hold a pint glass. On one wall above the wainscot, we used brick veneer with a rough aged look. Even the mortar was applied thick to make it more genuine. The other walls are a Venetian plaster decorative paint that provides a nice visual complement to the existing stone fireplace.
The floor is a rustic-looking laminate vinyl plank. The ceiling, of course, could not be neglected. Especially with that deep tray. The homeowner pulled up online pictures of tin ceilings, and one of them was American Tin Ceilings. After receiving samples, we decided on Pattern #6 in Silver Brushed Bronze.
As we were making the tin selection, our contractor contacted the American Tin Ceilings support team, who walked him through the installation process and best practices. I was relieved because so often new products get rejected from projects because the contractor is intimidated to install something new. However, that did not happen in our case. Our contractor has now used your tin on another project too.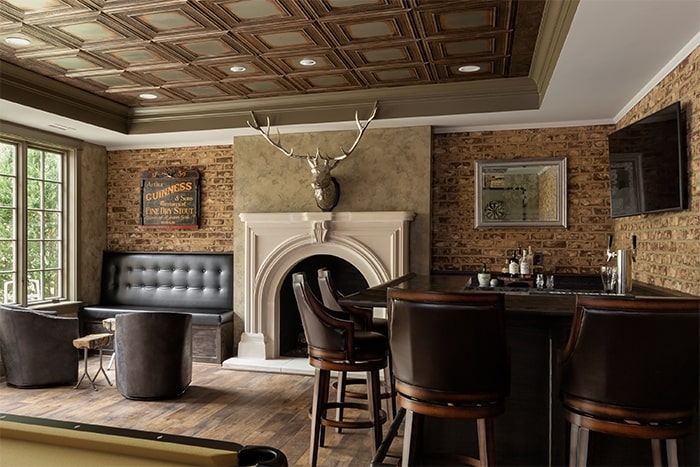 Q: Is there anything you can share about this project that our readers may be interested in?
A: Other design details:
Entry Doors: we removed the traditional french doors and Adams casings and replaced them with simple casings and a reclaimed wood double-sliding door. This entryway sets the expectation nicely as you enter the room.
Cabinetry & Bar Countertop: the custom bar and cabinetry are made of red oak with an ebonized finish (same as the wainscot). The panels on both are a simpler, flat panel design. A traditional bar arm rail was finished to match the bar front. The installation was worked around a custom steel countertop that was made by a local fabricator. The steel top is acid splashed for an aged look and finished with a clear coat for durability. There is also a bar foot rail reminiscent of traditional pub style.
Dart Board Wall: a large format tac wall product was installed and framed in the same ebonized red oak used throughout. This tac wall provides wall protection for darts that don't hit their target
Banquette: we added a built-in banquette, to the left of the fireplace, to balance out the cabinetry and woodwork on the right side. Leather-looking vinyl was used for the upholstery for practical reasons.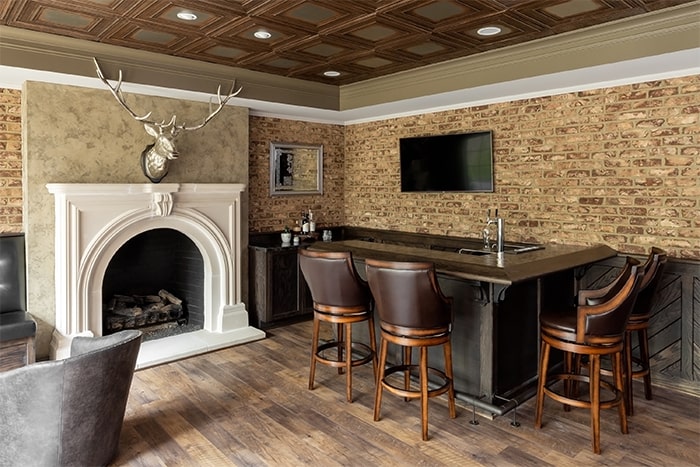 Logistics:

The bar and wainscott were milled and built on-site.
A local cabinet maker built the bar cabinets and banquette.
A local metal worker fabricated and installed the counter.
The reclaimed barn doors were sourced from out of state.
A decorative artist painted the textured walls and other smaller surfaces that needed to be painted to blend into the environment.

Practical:

The homeowners have two young children, two dogs and two cats. All materials used are child- and pet-friendly.
Want to check out more about Kathy Corbet Interiors?
Website