Home Category
7 Kitchen Backsplash Trends in 2023
Looking to give your backsplash an update? Maybe you're planning an entire kitchen redesign and want to make the backsplash special. Either way, the backsplash is an opportunity to make your kitchen design stand out. Here are some basic concepts that can help you create an on-trend tin tile backsplash in 2023.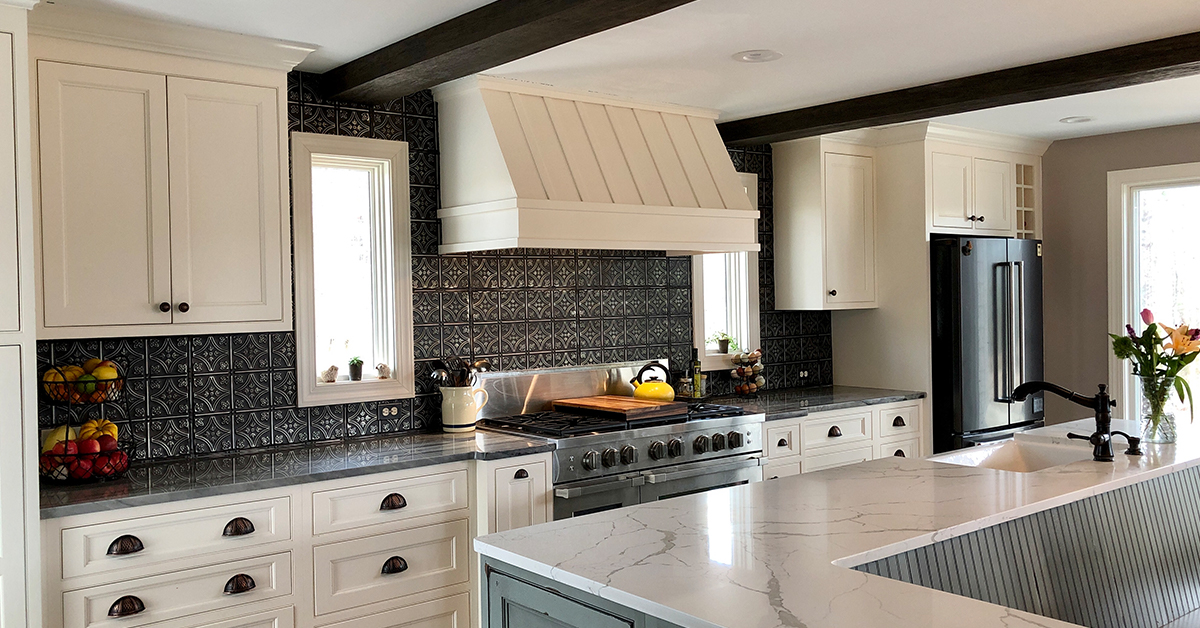 Features Pattern #3
1. Backsplash as an Experiment
 Bold is making a comeback in interior design and the backsplash is the place to go bold in the kitchen. The backsplash is one of the easiest things to update in the kitchen. That makes it an excellent space to experiment with.
Try something different on your backsplash that makes a statement and draws the eye in 2023. Paint, wallpaper, bold tile, and high-gloss are just a few ideas to consider. 
Do It with Tin
Covering your backsplash with an eye-catching tin tile to make a trendy statement. Try full-on, high-gloss metallic or a busy pattern. Whitewashed tin tiles from our Artisan collection add charm and undeniable style to the kitchen.
Features Pattern #31
2. Vintage Aesthetic
Vintage is big in all interior design trends. Translate this to the backsplash with encaustic tiles or tin tiles. The ornate patterns, raised textures, and worn patinas introduce that grandmillinnial flair you're looking for. 
Do It with Tin
Tin tile is an authentic product right out of the Victorian era that has stayed relevant right through Art Deco, MidCentury Modern, and beyond. Select a new, shiny metal for a refined Modern look. Or go with one of our Artisan colors for an aged and worn look.
Most of our patterns were inspired by reclaimed tin tiles original to eras of the past. When it comes to a tin tile backsplash, you really can't go wrong with any color or pattern in tin to get that vintage aesthetic. 
Features Pattern #35
3. Glossy Finishes
Matte has been the finish of choice for several years. 2023 will see the return of a shiny backsplash. Many other surfaces and fixtures like countertops and faucets will remain in the matte zone, but the backsplash will step out and make a statement in high-gloss. 
Do It with Tin
By nature tin tiles are shiny because they are metal. Each of our unpainted metal tiles is finished with a sealer that enhances its natural reflective quality. Also look for our gloss finished tin tiles. 
Features Pattern #3

4. Shelves
Open shelving has been a favorite trend in the kitchen for several years now. That trend has evolved and merged into the backsplash as a topper that adds interest and opportunity. 
Add an open shelf (doesn't have to be a deep shelf) on top of your 18 or 24 inch backsplash to further enhance the divide between the backsplash and the rest of the wall. 
Do It with Tin
Tin tiles come in 24 inch panels, the perfect height to add a little open shelving action. Something with clear lines is a good choice for continuity of design. Try Pattern #36 or Pattern #19.
Features Pattern #19

5. Mixed Materials
In 2023, mixed materials will be one of the hottest trends in the kitchen. That means you'll see wood, metal, stone, and more all in one space, and maybe even in one backsplash. 
Going back to the idea of experimenting with the backsplash, try out a new material or a mixture of materials like a pattern made with various stone or a mix of tile and metal. 
Do It with Tin
Tin tile is an obvious choice for getting some metal on the backsplash. A tin tile backsplash is perfectly suited for the rigors of the kitchen. A six inch repeating pattern is your best bet for a smaller space like the backsplash, which is a nice size if you want to add another material.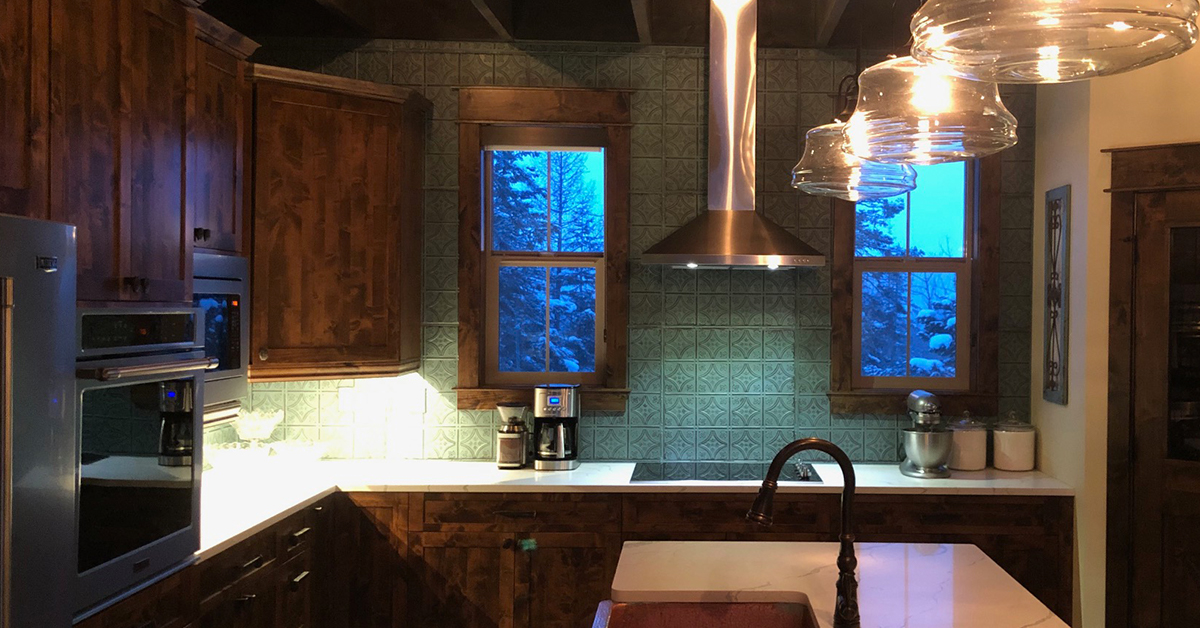 Features Pattern #3

6. Natural & Bold Colors
The name of the game for color this year is natural. Many home product companies selected shades of green for their color of the year. Everything from vibrant, saturated green to understated, grayed greens are still on trend. 
Consider warm neutrals to add more natural flair, including greige, soft pastels, and blues.
Do It with Tin
It's a bit unexpected, but tin tile backsplash can come in vibrant colors, including red, blue, and green. You might also want to consider any of our Artisan colors. These are hand-finished colors that layer metallics and color for a historic tin tile feel. Either way, tin tile is right on trend.

Features Pattern #1

7. Graphics
The backsplash goes graphic in 2022. Everything from photo printing to geometric wall papers is a go here. Think mural like paint covered in glass or polycarbonate. Think high-definition photos blown up to fill the backsplash. This new high-tech approach is so next century—exactly what one would expect from the year 2023.
Do It with Tin
The graphic nature of some tin tile patterns can help you achieve the same graphic appeal on a full tin tile backsplash. Select a more geometric design like concentric squares, stars, or something Art Deco to achieve the look.
No matter what style you decide on, a tin tile backsplash adds dimension and character to any kitchen. Learn about more home aesthetic trends and how you can use tin to bring them into your design.