Home Category
7 Kitchen Backsplash Trends in 2022
Looking to give your backsplash an update? Maybe you're planning an entire kitchen redesign and want to make the backsplash special. Either way, the backsplash is an opportunity to make your kitchen design stand out. Here are some basic concepts that can help you create an on-trend tin tile backsplash in 2022.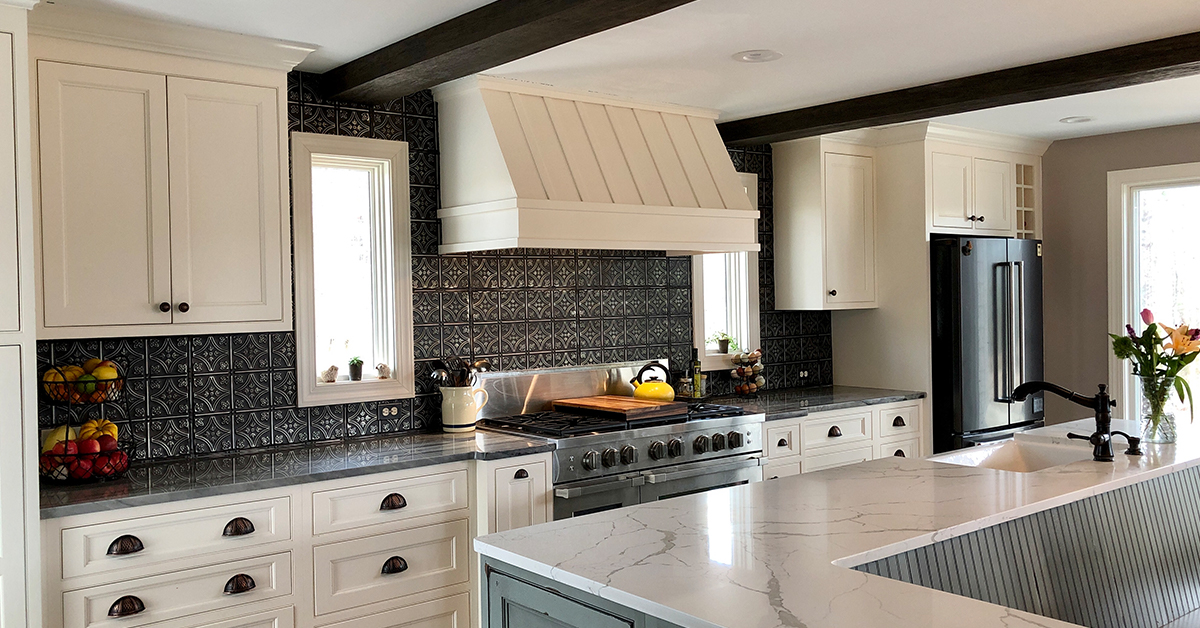 Features Pattern #3
1. Seamlessness
A sense of seamlessness pervades many of 2022's kitchen backsplash designs. Where we once separated the backsplash from the rest of the room, the seamless approach makes the backsplash just a piece of the greater wall.
Increase the dimensions of the backsplash by covering the entire wall, not just the backsplash, in the same tile, paint, or stone you'll use for the backsplash. You'll be surprised how it makes the kitchen feel larger and how the room becomes more than a functional space.
A trend that will continue into 2022 is the slab backsplash. Use the same material on the backsplash that you've used on the countertop (quartz, granite, marble, etc.). 
Do It with Tin
Covering an entire wall with tin tile increases your options. Usually you'd use a six inch repeating tile but since you're not limited to just the backsplash, you can go with a larger tile.
Features Pattern #31
2. Victorian Aesthetic
Vintage is big in all interior design trends. Translate this to the backsplash with encaustic tiles or tin tiles. The ornate patterns, raised textures, and worn patinas introduce that Victorian flair you're looking for. 
Do It with Tin
Tin tile is an authentic product right out of the Victorian era. Select a new, shiny metal for a refined Victorian look. Or go with one of our Artisan colors for an aged and worn look.
Most of our patterns were inspired by reclaimed tin tiles original to the era. When it comes to a tin tile backsplash, you really can't go wrong with any color or pattern in tin to get that vintage aesthetic. 
Explore More Victorian Home Trends
Features Pattern #35
3. Brick
Brick is an architectural element that always has a home in design. It's been a while since brick was in favor on the kitchen backsplash, but the time has finally arrived. In 2022 look for this feature in several different styles from industrial to farmhouse chic and vintage to natural. 
Do It with Tin
Brick and tin tiles make magic together. It may seem at first that they are opposites, but they both have a vintage type feel that makes them play well together. A tin tile backsplash mixed with a brick wall or accents both balance each other out with refinement and a relaxed style.
Features Pattern #3
4. Mirror
Mirrors are everywhere in 2022, including the backsplash. Look for simple mirrors, as well as etched and patterned mirrors. Any mirror-like surface will have a similar effect. Glass and highly-polished metal reflect light and do the work of a mirror in a more subtle way. 
Do It with Tin
Metallics are perfect choices for a reflective surface. Our selection of tin backsplash tile offers nickel, stainless, copper, bronze, and more. Or select a gloss finished color for that reflective quality without the metallic.
Try These Metallic Tin Tile Tips
Features Pattern #19
5. Metal
This year's kitchen backsplash trends turned to more natural materials, including metal. Metal makes a bold statement but the backsplash is the perfect place to make such a statement.
There are more options in metal than you might think are available for the backsplash. Sheet metal, stamped metal, metallic tiles, metallic paint, etc. are all excellent considerations for the backsplash.
Do It with Tin
Tin tile is an obvious choice for getting some metal on the backsplash. A tin tile backsplash is perfectly suited for the rigors of the kitchen. A six inch repeating pattern is your best bet for a smaller space like the backsplash.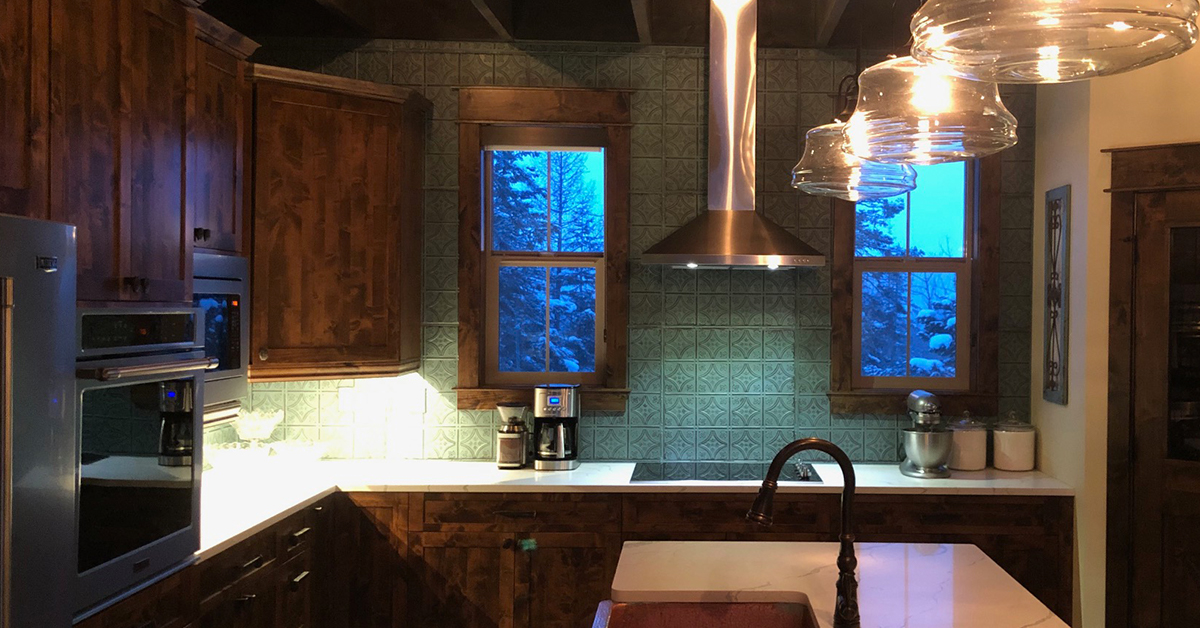 Features Pattern #3
6. Green
The name of the game for color this year is green. Many home product companies selected shades of green for their color of the year. Everything from vibrant, saturated green to understated, grayed greens will make an appearance this year. 
Do It with Tin
It's a bit unexpected, but tin tile backsplash can come in vibrant colors, including red, blue, and green. You might also want to consider any of our Artisan colors. These are hand-finished colors that layer metallics and color for a historic tin tile feel. Either way, tin tile is right on trend.
7. Graphics
The backsplash goes graphic in 2022. Everything from photo printing to geometric wall papers is a go here. Think mural like paint covered in glass or polycarbonate. Think high-definition photos blown up to fill the backsplash. This new high-tech approach is so next century—exactly what one would expect from the year 2022.
Do It with Tin
The graphic nature of some tin tile patterns can help you achieve the same graphic appeal on a full tin tile backsplash. Select a more geometric design like concentric squares, stars, or something Art Deco to achieve the look.
Add Art Deco Style to Any Room
Features Pattern #1
No matter what style you decide on, a tin tile backsplash adds dimension and character to any kitchen. Learn about more home aesthetic trends and how you can use tin to bring them into your design.