Home Category
Porta Bella Design
Photography by Juwan Li
Pattern #15 in Creamy White Satin
Peggy Wang is an Interior Designer with Porta Bella Design, a design firm located in California. She helps clients envision and execute on their dream home. We sat down with Peggy to learn more about her project in the Pacific Palisades, a residential neighborhood in Los Angeles, that featured American Tin Ceilings.
Q: What was the design scope of this project?
A: This project was a large-scale new home construction, where we featured tin tiles from American Tin Ceilings on the first floor ceiling, in the family room and kitchen. The tin tiles covered approximately 960 square feet.
Q: When in the design process did you decide to use tin ceiling panels?
A: The kitchen ceiling was set for tin panels from the beginning of the project. We decided to extend your tin tiles into the family room once we saw how pretty they were in the kitchen.
Q: Why did you choose to use Pattern #15 in Creamy White Satin?
A: We ordered your color sample kit, and placed all of the colors on the ceiling for design review. We fell in love with color Creamy White Satin. As for choosing Pattern #15, the design is very classic and elegant.
Q: How does the tin ceiling contribute to the overall design aesthetic in this project?
A: The tin tiles visually give the design a very subtle wow-factor.
Q: Do you have any tips for someone wanting to design with a tin ceiling?
A: Measure twice, cut once.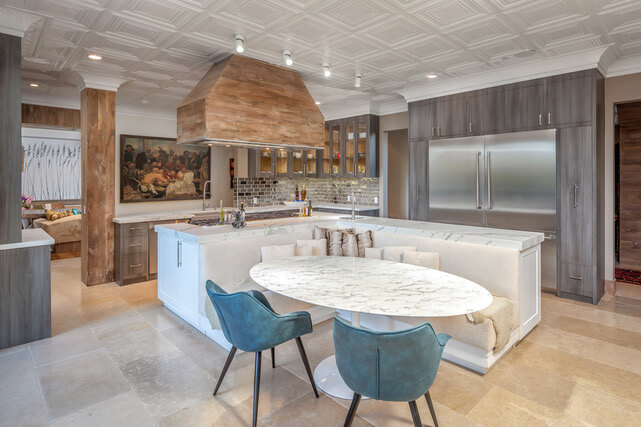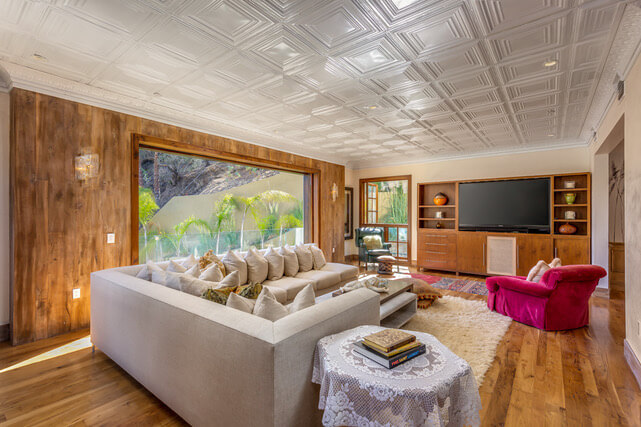 Want to check out more about Porta Bella Design?
Website