Home Category
Wolstenholme Associates
Q: What is your process for incorporating client style into designed spaces?
A: Early in the process, we identify the client's style. For restaurants, we get a good idea by asking questions during the initial client meeting: how do they want the space to feel to patrons, what is their ideal turnover rate, and what are their likes/dislikes in space planning and materials, just to name a few. We then provide inspirational images to ensure our visions align. There is plenty of idea generation at this stage.

Being both an architecture and an interior design firm, our decision-making connects both fields with the same goal. We find it beneficial for style conversations early in the process so we can create design cohesiveness and eliminate surprises for the client.
Q: How do you decide on specific products?
A: Quality and reputation. We want products that will endure the lifetime of their use. The last thing we want is for a client to have maintenance issues with a product we specified.

Cost is also an important factor for us and our clients. Budget planning early in the process allows us to make educated buying decisions on products.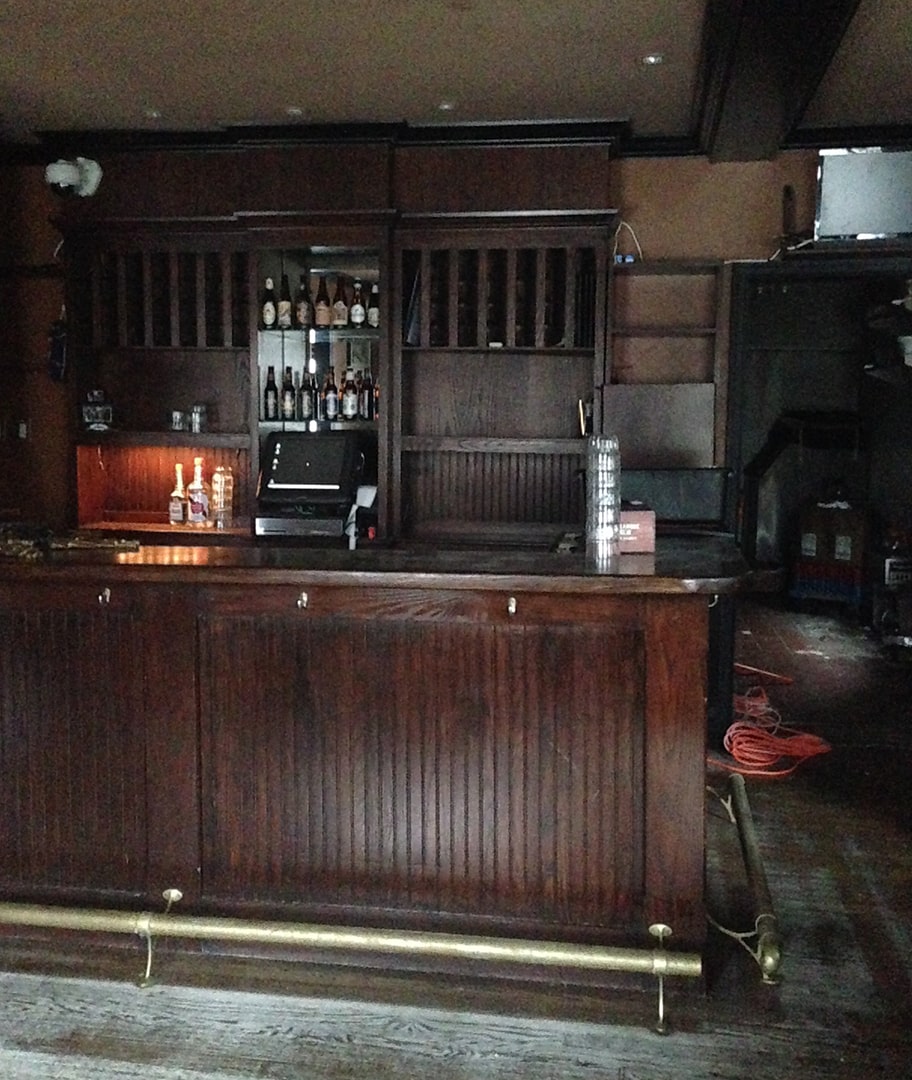 Before Image of Bar Area
Q: What is the name of this project, its project scope, and timeline to completion?
A: This project was for State Street Steak & Seafood, a premier bar and restaurant in Doylestown, PA. The space was formerly known as Knight House and had a damaging kitchen fire in April of 2016. Our client repaired the fire damage, and in the process, rebranded and remodeled the 2-story, Doylestown staple. The goal was to create an updated intimate bar and dining experience. Project construction took about 6 months.

We had previously designed the restaurant next door, 86 West, which is owned by the same client. It was the success of this restaurant that ensured our client returned to our firm for the design of State Street Steak & Seafood.
Q: How would you describe the design style of this featured project?
A: We describe the style as industrial modern, with both refined and rustic elements. The first floor has a vintage/retro feel with a tin ceiling, hexagon tiles, leather barstools, and schoolhouse bar lighting. The second floor has a fine dining feel, mixed with industrial elements like exposed ductwork and rustic chandeliers. The styles blend together nicely.
Q: How did tin panels support the design style?
A: We wanted to pay homage to the building's historic structure, while solving for modern day problems. On the first floor, an American Tin Ceilings acoustic tin ceiling was the perfect balance to achieve an intimate vintage-inspired bar aesthetic while solving for sound reverberation.
Q: Why did you choose to use Acoustic Pattern #6 in Black Matte?
A: With recessed lighting fixtures, we were limited to design patterns with a flat panel in the middle. This worked out nicely, as we did not want too ornate a pattern. We chose American Tin Ceilings Acoustic Pattern #6 for its modern/retro feel. We chose Black Matte as it helped to define the space, making it feel intimate with a dark ceiling color.
Q: How does the tin ceiling contribute to the overall design aesthetic in this project?
A: The first floor bar was inspired by retro parlour-like bars. A tin ceiling is evocative of that era, and we were able to spec it with a modern finish. This was the main theme throughout the restaurant: design for modern trends and amenities while paying homage to the existing historic structure.
Q: What led you to purchase tin panels from American Tin Ceilings?
A: We chose American Tin Ceilings because they best fit our model for specifications. They are reputable, well-made, and met our client's budget. We wanted a product that provided visual interest and acoustic control, and this product truly was the best option.
Q: Do you have any tips for someone wanting to design with a tin ceiling?
A: Have a clear plan for lighting, especially when using recessed fixtures. It is bothersome to have a fixture that is not centered in a square tile. The builder on this project did a great job aligning sprinkler heads, fans, and lighting within the center of the panels.

Also, be sure to use molding and accessories to your advantage. These products are designed to finish off the install in a professional manner by ensuring materials and colors will match.

Want to check out more about Wolstenholme Associates?